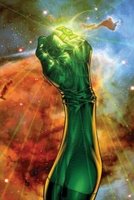 I found a website which chronicles the true origin of Green Lantern. Would you believe he was originally supposed to be a knock-off of Aladdin? That makes sense - it's a lantern and a ring that make his wishes come to life. Some weird but true facts:
* The creator was inspired while riding the train and watching a train worker swinging a green lantern
* The original Green Lantern was carved out of a meteor by a Chinese man who was killed by local villagers for practicing witchcraft
* The first Green Lantern was going to be named Alan Ladd after Aladdin. His vulnerability was wood.
This and much more can be found...
here
.